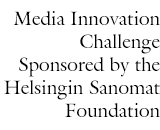 Uutisraivaaja is a media innovation contest organized by the Helsingin Sanomat Foundation. The contest seeks ideas for developing the distribution of information and creating sustainable business models for journalism. The idea can be a new way to gather or publish information online, for example, or a new revenue model for publishing content. You can participate by submitting your idea online.
The application period for Uutisraivaaja begins September 19th, 2016, and ends January 17th, 2017. The finalists will be chosen in March 2017, and the winner/s will be announced in the fall 2017.
Read the latest from Uutisraivaaja blog

The best idea will be given the Uutisraivaaja Award for implementing the proposal.
A small number of proposals will be chosen as finalists, and they will receive seed funding to develop their proposals further.

The idea should be groundbreaking and improve the distribution of information. The idea must be first implemented in Finland, either nationwide or in a local community.
The application can be submitted either in Finnish or in English. Anyone can apply for the Uutisraivaaja Award: individuals, groups, organizations and companies. If the applicant is a company, the company must have been established by the time of submitting the application.
The applicant, or if a group applies, one of its members, must be at least 18 years old. The applicant must have his/her official place of domicile in Finland. If the application is submitted by a group, at least one group member must have an official place of domicile in Finland.