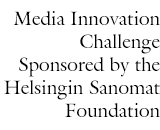 Uutisraivaaja is an innovation contest organized by the Helsingin Sanomat Foundation. The contest seeks ideas for renewing distribution of information and creating sustainable business models for journalism. The idea can be a new way to publish online, for example, or a new revenue model for publishing content. You can participate by submitting your idea online.
Uutisraivaaja finalists were chosen in the beginning of March 2013. The finalists have a chance to develop their projects as far as possible with initial funding from the HS Foundation. The winner(s) of the Uutisraivaaja contest will be announced in November 2013.

The winner(s) will be given an Uutisraivaaja Award with which the proposed project will be implemented. The maximum award is 250,000 euros. The winner(s) will be published on 13th November 2013 at Slush start-up conference in Helsinki.

The idea should be groundbreaking and improve the distribution of information. The idea must be first implemented in Finland, either nationwide or in a local community.